Fajitas are so filling, delicious, and very simple to make.This vegan fajita recipe is finger licking good and a MUST try. It's great to have tasty vegan alternatives. I hope you guys love this recipe too!
*Vegan Fajita* 
Yields: 2-3 Fajitas
Fajita Main Ingredients:
1/2 Organic Red Bell Pepper (Rough Chop into strips)
1/2 Organic Yellow Bell Pepper (Rough Chop into strips)
1/2 Organic Red Onion (Rough Chop into strips)
1 + 1/2 Cup Black Beans ( I used the brand 365 from Wholefoods)
2-3 Scallions Stems (Rough Chopped)
Sprouted Wheat Tortillas (I found a pack of six from sprouts)
Fajita Seasoning Ingredients:
1/2 Tbs Chili Powder
1/2 Tsp Onion Powder
1/2 Tsp Garlic Powder
1/2 Tsp Himalayan Pink Sea Salt
1/4 Tsp Cumin
Dash of Cayenne + Paprika + Black Pepper ( Season to taste)
1 Tsp Lime Juice
Cilantro Lime Crema Ingredients:
1 Cup Fresh (Rough Chopped) Cilantro
1/2 Cup Raw Cashews (Soak overnight in water inside the refrigerator)
1 Small Garlic Clove
1/2 Tsp Garlic Powder
Dash of Salt
1/2 Cup Spring Water (add more if needed to get the liquid texture you prefer)
1/2 Juice From Fresh Lime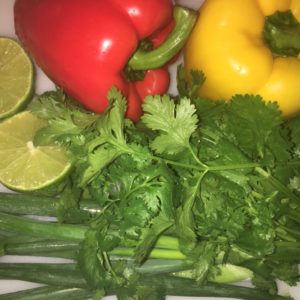 Directions:
1. Put 1 + 1/2 Tbs Olive Oil (or grape seed oil) inside pan + allow to pre-heat 
2. Add your onions to pre-heated oil + allow to sauté on med heat for 2-3 mins + add peppers
3. While peppers and onions are sautéing combine all seasonings to a bowl + stir
4. When onions and peppers are almost finished  (after 10-12 mins) add your seasonings
5. Add your seasonings + 1 tsp of lime juice + stir + allow to cook another 5 mins
6. Next add your black beans to a pan + allow to warm for 5 mins on med-high heat
7. While your ingredients are cooking ( the last few minutes) add all cilantro lime creama
8. Add all lime creama ingredients to a high speed blender + blend on high until smooth 
9. Next warm your tortillas on each side on med heat for 1 min in a pan without oil 
10. Once all ingredients are finished cooking lay your tortillas flat + add your beans 
11. Top your beans with your seasoned sautéed onions + peppers + drizzle lime cream on top
12. Add fresh cilantro + fresh scallions + pico de gallo (optional) + Indulge! It's SO good!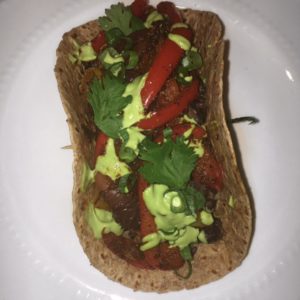 Thanks so much for checking out this fajita recipe. I hope you all love it. Comment below and let me know your thoughts! Don't forget to share the website with your friends and family♡
ANNOUNCEMENTS📢📢:
** Our Unisex Vegan Deodorants are finally BACK IN STOCK and already almost sold-out again! YAY! Be sure to snag yours now>> HEALTH STORE
** OUR BEST-SELLING VEGAN Beauty Soaps are also BACK IN STOCK! Grab your favorites NOW >> HEALTH STORE

** VEGAN BATH BOMBS JUST LAUNCHED INSIDE OUR ONLINE STORE! HOW EXCITING! Get ready to take your bathing experience to a new level. Check them out inside the store!
** You can also now watch inspirational videos + raw food tutorials on my Youtube channel. The Youtube page link is at the top of the website!
** THANK YOU so much lovelies for your love and continued support! I'm working on some amazing NEW products for you guys and can't wait to share soon. I adore each and every one of you! Stay tuned!
HUGS & HAPPY Fajita Eating,
LASHANA NICOLE❤